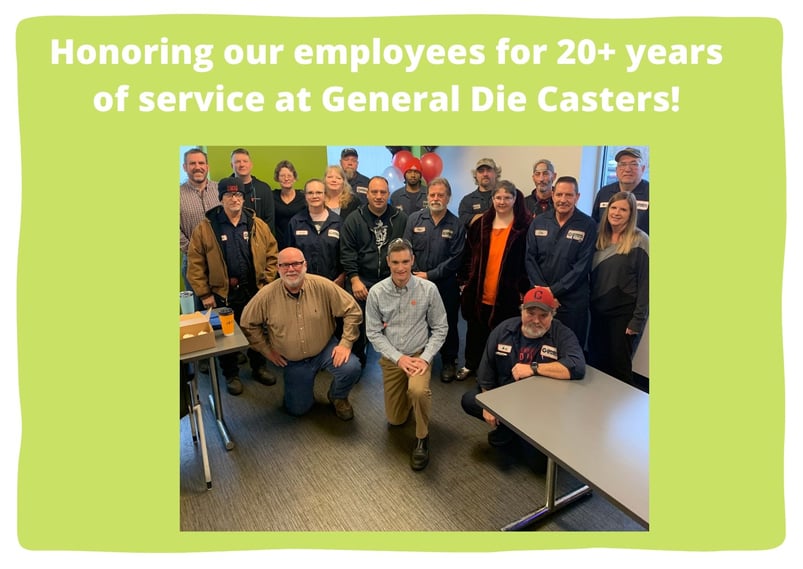 General Die Casters prides itself on creating an environment that promotes safety, education, empowerment, and respect. Ask anyone who works here "what's the greatest thing about General Die Casters" and they will all agree: it's our culture. We have a vested interest in our employees. The photo above showcases the employees who have dedicated 20 or more years of service at General Die Casters. We are so grateful to our veteran staff who has been an integral part of our company.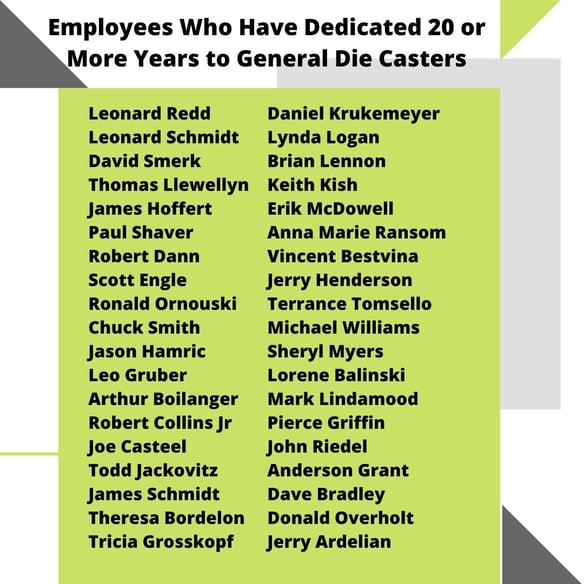 We celebrated our newest inductee to the 20-year club, Dave Bradley, before the new year! Dave has been a pillar in the shipping department and is known for his relentless work ethic and dedication to his team. Below, learn more about Dave's journey over the last 20 years at General Die Casters.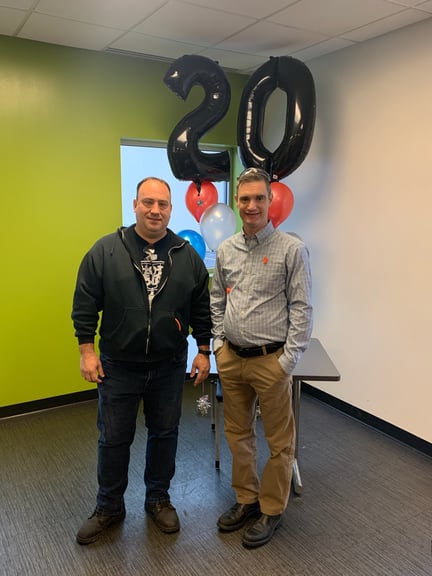 Dave came to General Die Casters with no previous manufacturing experience. Prior to working at General Die Casters, he worked at Geauga Lakes as a Manager in the Rides Department. In the fall of 1999 when Geauga Lakes was transitioning to become Six Flags, Dave and the other seasonal workers were told there would be no winter work available at the theme park. Through a newspaper ad, he saw an opening at General Die Casters and applied. He started his career at General Die Casters in the Stock Department working second shift. After 2 years at the company, he transitioned to working first shift in the Shipping Department.
"I worked my way up through being the 'go-to-guy'. The full-time truck driver was out for months due to major surgery, so I volunteered to be the fill-in truck driver. I would work at all 3 of our locations in a day, on top of assisting the shipping department when employees were out sick", says Dave.
Dave attributes his tenure at General Die Casters to the welcoming company culture and opportunities for growth. While everyone has a specific role at General Die Casters, the company provides employees with education and training to make sure its employees have long, successful manufacturing careers.
"What I appreciate about the work environment is that everyone that works here is so willing to help. I have had amazing mentors along the way that helped me learn the ropes of my job. For those who want to work hard, there are countless opportunities to learn new skills or work overtime to earn some extra money. The benefits here are excellent and help me provide for my family."
"Dave is one of those consistent and reliable people that just gets things done. What more can you ask?" says Brian Lennon, CEO.