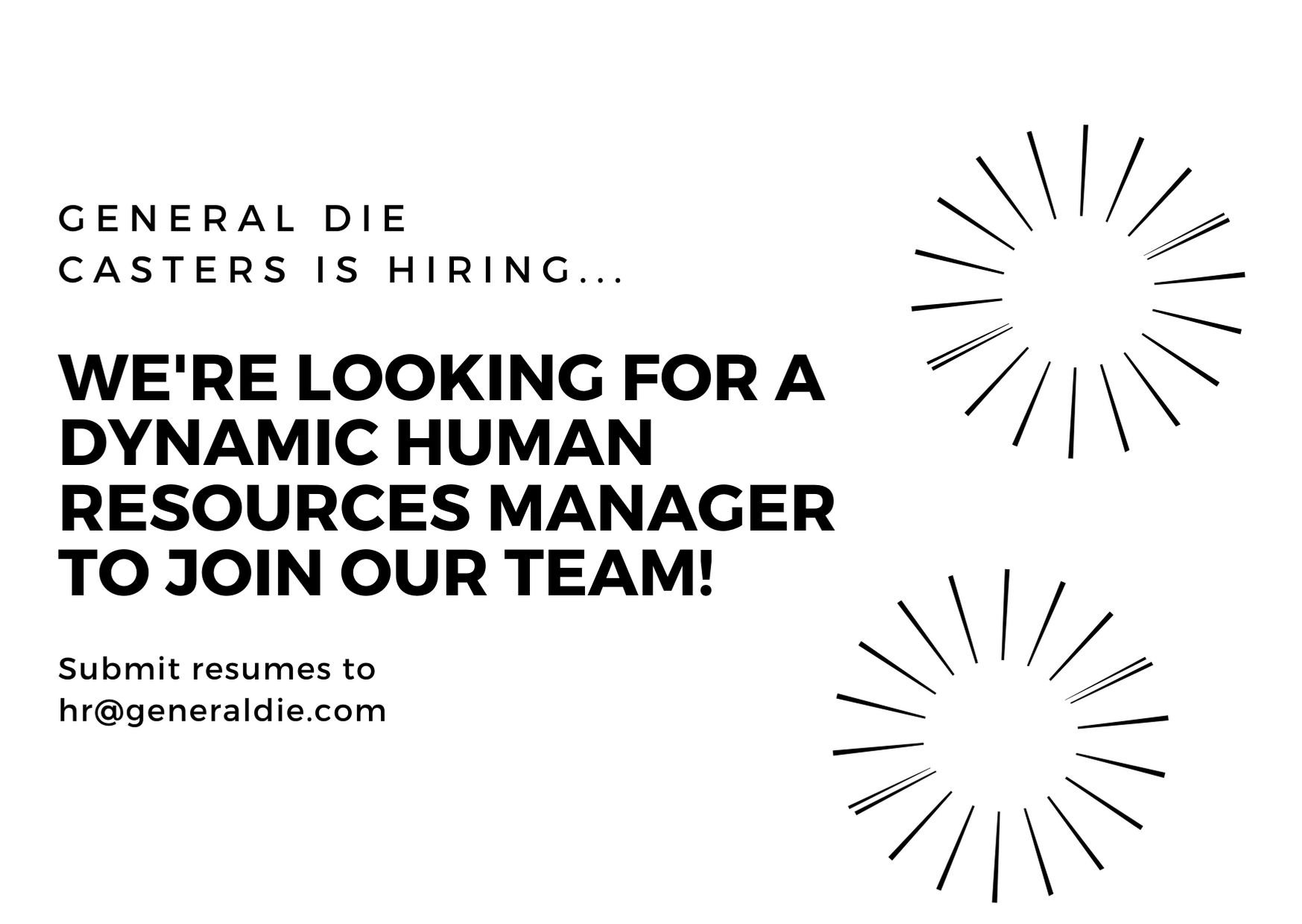 General Die Casters has an open position for a Human Resources Manager to oversee all functions related to employee relations, recruiting, training, and compliance. This is a hands on position for a person who enjoys a fast paced 3 shift manufacturing operation. Looking for someone that can maintain a strong relationship with our team members focusing on trust and respect.
RESPONSIBILITIES:
Recruiting
Oversee the entire recruitment process from identifying potential candidates via the use of various sources from online sites to job fairs, interview, and selection of qualified candidates to fill vacant positions.
Conduct all due diligence related to new hires
Oversee the entire onboarding process of new hires including drug screens.
Maintain Job Descriptions
Meet with management on a weekly basis to determine staffing needs.
Employee Relations
Oversee company employee appreciation program, awards and events.
Manages the entire discipline warning program implementation, training and enforcement. As well as employee attendance, LOA, and FMLA programs.
Identify and coordinate training needs, develop/source and implement training programs to meet needs.
Oversee the entire performance review process.
Advises management in appropriate resolution of employee relation issues.
Responds to questions, inquiries and complaints from employees.
Compliance
Ensures policies, procedures, legal requirements and regulations affecting human resource functions are in compliance.
Oversees the FMLA, STD, Unemployment and Workers Compensation programs to ensure compliance with applicable laws and company policies.
Represents organization at personnel-related hearings and investigations.
Cognizant of consequences to employee, customer and environment if procedures are not followed.
Work with supervisors to provide documentation for Workers' Comp Claims; manage WC records and communicate with insurance and medical providers when necessary.
Manage relationships with vendors and service providers.
Knowledge of DOL and required training and implement FLSA guidelines with respect to pay and overtime rules
Manages Workers Compensation accidents by coordinating between managers, MCO, TPA and BWC ensuring proper procedures are followed.
SAFETY FUNCTION
Supervise and manage the Safety Coordinator to maintain a safe, clean, and organized work area and ensure compliance with safety practices and policies.
EDUCATION / QUALIFICATIONS:
Bachelor's Degree
SPHR (SHRM-SCP) is strongly preferred
10+ years HR experience, preferably in an automotive or manufacturing/production environment
Knowledge of current federal, state and local laws
Strong employee relations
Ability to communication professionally and effectively with all levels
Ability to interpret and disseminate policies, procedures, and standard business practices
Knowledge of safety standards/procedures, Workers' Comp., OSHA
Must demonstrate a sense of urgency and timeliness
Working knowledge of HRIS System / Payroll System (ADP Workforce Now experience a plus!)
Knowledge of Excel, Word, PPT and general Microsoft applications
Submit resumes to hr@generaldie.com