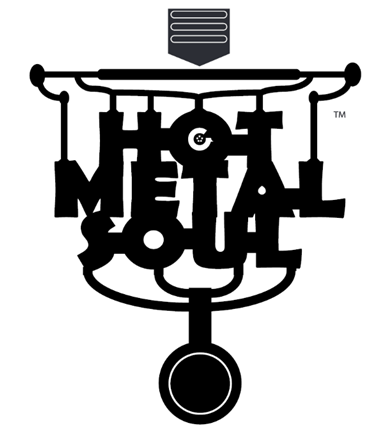 I've always felt a special attachment to die casting that I could never quite articulate. A few months ago, I experienced a rush of excitement as I saw one of our Process Engineers, Jeff, with a shirt that expressed my passion for die casting perfectly. The logo on the shirt resembled a die casting gate depicted with wonderful artistic design. The words, "Hot Metal Soul," stand proud as the words being cast in the image. After admiring the shirt, I immediately told Jeff how much I loved his shirt and asked where I could buy one. I learn that that Jeff, who has a degree in Manufacturing Technology from Kent State University, has a creative side and designed the shirt himself! Jeff's love of casting began pouring sand castings at Kent State. He created this art to convey the spirit of metal casting. I became Jeff's first customer as I acquired the design and we incorporated the General Die Casters logo discreetly into his art.
That evening, I attempted to put into words the feeling when I first saw Jeff's art. Here is what I wrote:
"You may have a job, but does it have Soul? Metal casting is a special industry. It's no ordinary manufacturing process. It's the evolution of an age old craft. The first castings were poured over 5,000 years ago. Metal casting was so important in human history that major periods are named after their predominant metal. Metal casting allowed human civilization to advance and dominate by producing tools, weapons and ornaments of cultural identity. It is the ultimate combination of creativity, engineering and hard work. I'm proud to continue the tradition of metal casting and we work hard each day to refine this art. I believe this design created by one our process engineers embodies the metal casting culture. At General Die Casters we have soul. Hot Metal Soul."
We incorporated an abbreviated version of this mantra on the back of our shirts. Here is the design that we will be rolling out soon.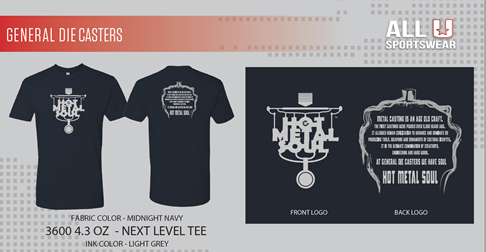 At General Die Casters, we are proud that our employees see their work as both a job and a passion. Interested in a new career? We're hiring at General Die Casters. Contact us to apply….and get a little soul.