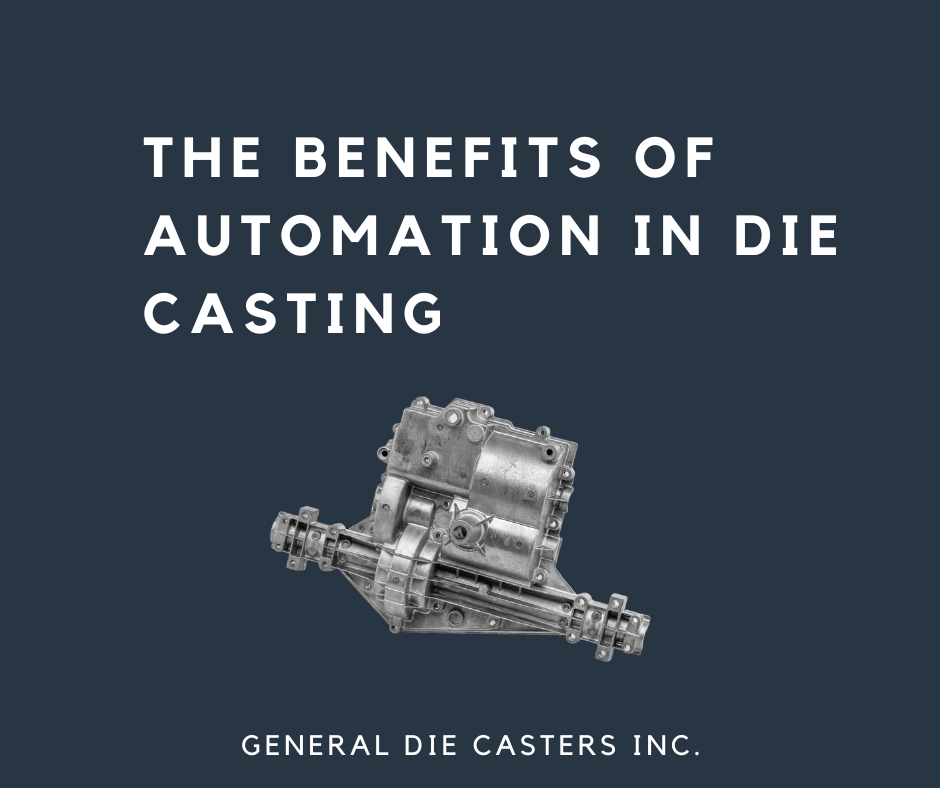 Die casting and automation is not a new concept. Some of the first automated die cast cells were developed just a few miles from our Twinsburg, OH plant at the now defunct Halex Corporation. Today, with innovations in robotics, vision systems and AI, automation in manufacturing is more critical than ever before. Continue reading to learn how automation can benefit your organization's die casting needs.
Automation Benefits in Die Casting
At first glance, die casting can look like a simple process that may not benefit from automation. Most people think about die casting the envision metal being melted in a furnace and poured into a die to solidify (if you've read our Die Casting Dimensional Capabilities series, you know it's not that simple.) However, automation is crucial in the die casting process, as it streamlines production, improves quality and reduces operating costs.
A die casting machine running with automation has a faster and more stable cycle time, as well as a more consistent spray pattern. A consistent cycle time results in a balanced die temperature which yields longer die steel life and less scrap.
In addition to cost savings and improved quality, there are also many safety benefits that automation provides in die casting. Automation minimizes molten metal and high-temperature component contact with workers as well as eliminating repetitive tasks and heavy lifting.
Additional benefits of automation include:
Consistent results every time, even with the most precise operations
Faster part-to-part cycle time which increases productivity
Less waste production, saving customers money on raw materials and cleanup
To achieve repeatability and reliability, General Die Casters utilizes Fanuc 6 axis robots to do part extraction, part sensing and quenching. The value a robot is limited only be the imagination. We have utilized our robots to perform error-proofing inspections and operations as well as remove gates and overflows to streamline the trim operation.
Our Shotscope process monitoring and Fondarex vacuum assist systems are integrated with our robotic cells. If a casting process parameter does not meet our specifications, a signal is sent to the robot. The robot will drop this casting directly into a scrap hopper, eliminating any change of it reaching our customer.
Robots are now commonly used to replace trim dies on large, single cavity dies such as engine blocks and transmission cases. This reduces tooling costs and increases the flexibility of the cell.
While automation is important, we believe that our success lies in our team. While some die casters tout the ability to ship a casting never touched by human hands, we have a different philosophy. We choose to have an educated member of our team handle and inspect every part. This is just one of the many steps we take to ensure that we are truly providing the highest level of quality and service.
Each of our employees is required to attend a thorough training process, General Die Casters University, to ensure employees are properly trained on all aspects of die casting from operating machinery to advanced process engineering.
The keys to successful die casting automation are process control and equipment maintenance. If the production equipment and die design are not capable of consistently meeting performance standards, then the automation cell becomes an efficient recycling machine. We utilize a structured Total Preventive Maintenance Program with equipment performance tests to ensure our machines and dies are always capable of meeting production goals.
General Die Casters Product Catalog
At General Die Casters, we strive to stay at the forefront of die casting industry advances. Since 1957, General has worked closely with our customers to manufacture and deliver the custom aluminum and zinc die castings they demand. We combine our tenured staff of skilled technicians with automated process monitoring and quality machinery to ensure our customers receive high-quality parts at a price that makes sense. To learn how we can use over 60 years of expertise to solve our customers' biggest challenges and bring their ideas to reality, contact us.